White Shirt – Sponsored by Royal Stag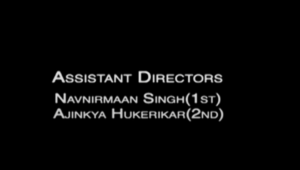 Project details
White Shirt is a short film directed by Sumit Arora, an award winning writer-director, starring Kunal Kapoor and Kritika Kamra, two ex lovers who deal with life after their relationship. A couple has separated after the husband, Aveek, cheats on his wife Vani. What's left of their relationship are bittersweet memories and Aveek's white shirt.
The film garnered 14M+ views on Youtube and was crtically acclaimed in Bollywood
Work Contribution:
Production Scheduling: Assisting in creating and managing the production schedule, ensuring smooth coordination between different departments and efficient use of time and resources.
Set Management: Coordinating with the First Assistant Director and Production Manager to ensure that the set is properly prepared, including organizing props, overseeing set dressing, and maintaining a safe and organized working environment.
Talent Coordination: Assisting with casting sessions, scheduling auditions, and coordinating with the casting department to ensure timely communication with actors and their representatives.
Call Sheets and Daily Reports: Preparing call sheets and daily reports, which included distributing them to the cast and crew, outlining the day's schedule, and documenting important information for reference and continuity.
Communication and Team Coordination: Facilitating effective communication between the production team members, including relaying instructions, updates, and changes in the schedule or script to the appropriate personnel.
Extras and Background Actors: Assisting in the management and coordination of extras and background actors during filming, ensuring their presence and activities align with the director's vision.
Continuity: Collaborating with the Script Supervisor to ensure consistent continuity in costumes, props, and actor performances from scene to scene.
Equipment and Logistics: Assisting with equipment setup, transportation, and logistics, ensuring that the necessary tools and resources are available on set as required.
On-set Support: Providing support to the director and other key production members during filming, addressing any last-minute needs or issues that may arise.
Safety and Compliance: Promoting a safe working environment by enforcing safety protocols, monitoring crowd control, and ensuring compliance with industry standards and regulations.
Problem-solving: Assisting in troubleshooting any production-related challenges or obstacles that may arise, working closely with the production team to find practical solutions.
Wrap-up and Documentation: Assisting in the wrap-up process, including ensuring proper storage of equipment, documenting any outstanding tasks or requirements, and facilitating the return of borrowed or rented items.